Cold Glue iPhone Screen - New iPhone LCD with Strong Frame
2021-06-06
Many iPhone users are annoyed by bad quality of iPhone 6 screen. The biggest problem on iPhone 6 screen is the frame dropping. After you install the screen to back housing, the frame on screen always loose. Many customers claim about it, but it is really hard to avoid the problem untill today. The new iPhone screen with cold glue fix the problem successfully.
Why old iPhone 6 screen frame alwayd drop?
There are 2 reasons who cause the frame problem on iPhone 6 screen. Firstly, iPhone 6 screens are ultra thin, the bonding area around the screen are very small, it makes the glue not enough to provide strong adhesive. Secondly, all iPhone screen use hot pressing glue before. This glue will be powerless when the temperature rising. So the frame on iPhone 6 screen always loose after installation, especially on summer.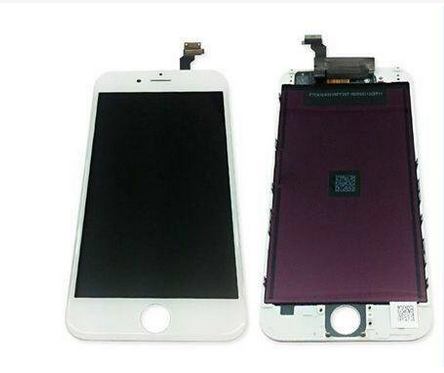 What is cold glue frame screen?
It is a new iPhone screen which use cold glue to bond the frame bezel. The cold glue is soft, and it is stronger than hot pressing glue. Cold glue won't reduce the adhesive after temperature rised, it is more stable in adesive strength. What is more, the digitizer and frame of cold glue sceen are assembled together, it is very hard to seperate them. By this way, the frame bezel on new iphone screen are always strong.
Which iPhone screen use cold glue frame?

Currently, not all iPhone screens can use cold glue craft. We only use it on iPhone 6, iPhone 6 Plus and iPhone 6S sceen. The iPhone 4/4S/5/5C/5S/6S plus don't use the new glue currently.
What is the price of iPhone screen with cold frame?
The new cold frame iphone screen are same price as hot pressing screen. We have plenty in stock!

Compatible with iphone 7 4.7 inch ONLY, Model: A1660, A1778, A1779.

Compatible with iphone 7 plus 5.5 inch ONLY, Model: A1661, A1784, A1785.

Troubleshoot the damaged, cracked,shattered screens, or screens with display or touch response issues.

Double-test before shipping, three-month return policy & warranty.
The LCD does not come with any home botton, ear piece or front camera; needs carefully removing from the original screen to the new one.
Please look for technician if you are lack of installing experience.

iPhone 7 Plus LCD
,
iPhone 7 LCD Display
,
iPhone 7 LCD Digitizer Replacement
,
iPhone 7 Plus LCD Digitizer
Exhaust System Co., Ltd. http://www.aokals.com