Bost Engine Spare Parts Motorcycle Cylinder Kit Complete for Tvs-100
2021-04-19
Bost Engine Spare Parts Motorcycle Cylinder Kit Complete for TVS-100
Model:   TVS-100
Cylinder No.: 1 cylinder
Material: Alluminum Alloy
Diameter:  51 Φ
Related Products: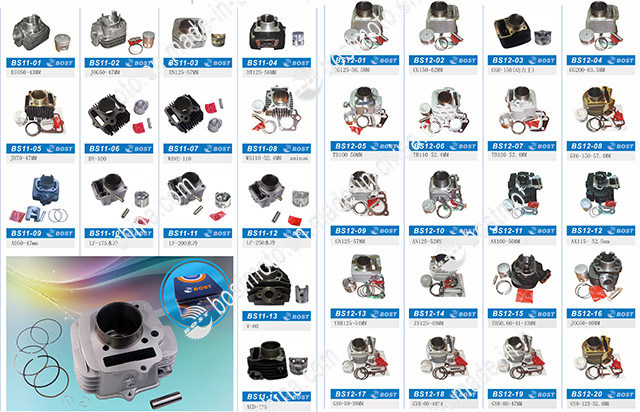 Welcome to contact us for the type you need.
We provide full range of motorcycle parts, such as:
| | |
| --- | --- |
| Body Parts | Engine Parts |
| Head Light, Rear Light, Turning Light | Cylinder Head, Cylinder Head Cover |
| Rear Mirror, Left & Right Switch Assy | Cylinder  Block  ASSY, Paper Gasket |
| Handle bar, Hand Grip, Handle Lever | Intake & Exhaust  Valve,   Camshaft |
| Left & Right Side Cover, Rear Carrier | Rock Arm, Rock Arm Seat, Piston Kit |
| Speedometer, Fuel Tank, Seat Assay | Piston Ring, Piston Pin,  Piston Clip |
| Front & Rear Fender, Fork Assay, Muffler | Main Shaft,  Counter Shaft,  Oil Filter |
| Front & Rear Shock Absorber, Footrest | Crankcase, Crankcase Cover, Clutch |
| Front Wheel,  Front & Rear Wheel Hub | Starting Shaft, Oil Pump, Stator, Rotor |
| Hub Cover,   Brake Shoe,   Wheel Axle | Start Motor,   Sprocket,   Clutch Disc |
| Main Cable, Air Filter, Tire, Fuel Switch | Tensioner,   Left & Right Side Cover |
| Chain,  Ignition Coil,  Flasher,  Relay | Kick Starter, V-belt, Fan,  Roller Set |
| CDI, Rectifier,  Spark Plug,  Reflector | Variator,   Magneto Coil,    Oil Stick |
| Battery, Carburetor, Main Stand, Horn | Input Shaft, Gear Case, Final Shaft |
| Side Stand,  Washer,   Brake Pedal | Oil Filter Screen, Final Gear, Bearing |
| Throttle Cable,   Front Brake Cable | Cover A, C over B,  Fan Cover , Belt |
| Clutch Cable,  Speedometer Cable | Chain Adjuster,   Magneto, O-RING |
| Choke Cable,  Lock Set,  Spoke Kit | Oil Seal, Crankshaft , Chain Cam |
FOR Motorcycle Spare Parts MODELS AS:
BAJAJ:


BAJAJ BOXER CT100,BAJAJ BOXER BM100,BAJAJ BOXER BM150,BAJAJ PULSAR135,BAJAJ PULSAR150,BAJAJ PULSAR180,BAJAJ PULSAR200,BAJAJ PULSAR220,BAJAJ DISCOVER125,BAJAJ DISCOVER135,BAJAJ XCD125,BAJAJ 2T 3W,BAJAJ 4T 3W,BAJAJ TORIO 4S etc.
 


TVS:


TVS STAR, TVS STAR LX, TVS STAR CITY, TVS MAX, TVS SPORT etc.
 


HONDA:


CG125, CG150, CG200, BIZ125, WAVE110, CGL125, TITAN, CG150 FAN, CARGO, BROS, JH70 etc.
 


SUZUKI:


AX100, GN125, GN125H, EN125, AN125 etc.
 
YAMAHA:
YBR125, BWS125, YB100, CRYPTON, JOG50 etc.
 
ITALIKA:
AT110, FT110, FT125, FT150, WS150, CS125, DS150, FT180, WS175, ST70, ST90, DM150, DM200 etc.
 


AKT MOTOS:


AKT110,AK125,AKT125,AKT125 MKD,AKT125 TT,AKT EVO etc.
 


KEEWAY:


HORSE125, OWEN125, ARSEN150, OUTLOOK150, TX200 etc.
 
CHINESE MODEL:
LIFAN, LONCIN, ZONGSHEN, KYNGO, KYMCO, TAYO, HAOJUE, HAOJIN, SANYA, JIALING, SHINERAY etc.
Why should you choose us?
      Guangzhou Bost Trading Co., Ltd specializes in the business of motorcycle spare parts for many years. We are outstanding for:
Advanced Equipments&Strict QC,
Guranteeing Stable&Timely Supply,
Superior Quality&Competitive Price,
Professional Technicians&Sales Team...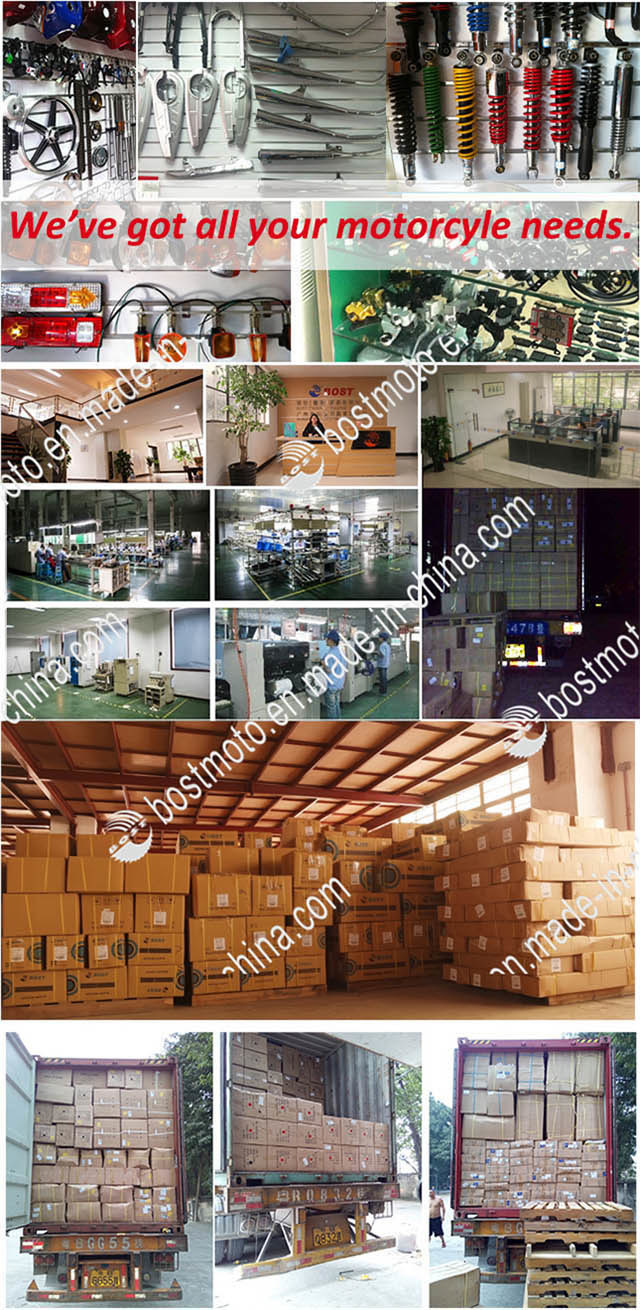 Our Company:
    Guang
z
hou BOST Trading Co., Ltd is an export-oriented enterprise and got authorization for independent management & export
at
ion. Since establishment
,
 we 
have been 
engaged in research and development in the field of motorcycle spare parts for more than 20 years. So far we have explored series of parts for different types, such as HONDA, SUZUKI, YAMAHA, BAJAJ,TVS, KYMCO,SYM..
Nowadays,
 motorcycle spare parts products of our brand BOST series has been exported to Southeast Asia, South America, 
t
he Middle East, Africa areas and so on.
Our company's aim is try to win 
brand reputation,
with the philosophy "customer first 
and quality priority
". We are going to develop and innovate continuously for trying to get "double win" with our customers . To make our customers feel satisfied & get mutual benefit can be our final goals.
Both for the production according to our sample o
r
from customers
, we did harder working more than it need
s. We deeply know that requirements varies in different markets of the world
.  Relying on the rich experience of after-sale service & competitive production in global market, BOST believe that we can provide our excellent support for you both 
in 
selling promotion and marketing development.
Our Services:
1. We accept T/T, Western Union, Paypal etc. Please contact us for the most convenient way to pay;
2. Items will be checked strictly before shipment. Shipment method is optional to be by air, by sea, by logistics, by express etc. to your requirements.

Guarantee
1. All items are in good condition and passed requested certificates as CE, ISO9001:2000,CCC, RoHS, DOT, EEC etc.
2. Do feel free to contact us if you have difficulties in usage or other technical issues. We will try our best to solve any problems you meet during the cooperation process.

Feedback 
1. Buyer's early confirmation will be highly appreciated after receiving the item. 
2. If you are satisfied with our items, please share with your friends around, which will be much appreciated.
For any inquiries, welcome to contact us.
Name: Miss Mary Lee
MP: +86 18520169942
  
  
  
Add: 1-2F, A7 Building, Shijing Creative Park, Shitan Road, Baiyun District, Guangzhou, China.
Ignite Status:
Comparing with normal spark plug, the flame od Iridium Spark plug spread more frequently. Iridium Spark plug improve much more the ignitability and fuel economy.
Improve Acceleration:
With the 0.5mm center electrode, the acclerating performance improves obviously. The time difference to speed up would be shortened 0.7 to 1 second.
Improve Engine Starting:
With the powerful ignitability, the Iridium Spark plug can ignite the engine easily and make less cut off even under thin air and adverse environment.
Moto Spark Plug
,
Moto Iridium Spark Plug
,
Iridium Vehicle Spark Plug
,
High Quality Moto Spark Plug
Exhaust System Co., Ltd. http://www.jmmotorplugs.com